Our Gifts Make a Difference!
"This is the first time I attended a Site Visit. The tour and speakers provided emotional, gripping descriptions of the real-life impact of the Women's Fund on individuals in our community!" Holiday Vaill
This year's Site Visit on October 8th attracted some 200 members and guests who toured and heard progress reports from nine local nonprofit agencies - the 2013-14 recipients of $550,000 in Women's Fund grants last April.
Women's Fund member, Leslie Dinaberg, captured the excitement and details of the day in her story prepared for Noozhawk.

Filling four Santa Barbara Airbuses, Women's Fund members and their guests toured three grantees in the afternoon: Peoples' Self-Help Housing, Youth Interactive Santa Barbara and the Single Parent Achievement Program at Santa Barbara City College. The Santa Barbara Public Library hosted members and their guests before and after the bus tours, featuring presentations from six more of the nine most recent Women's Fund grantees: Casa Esperanza, Domestic Violence Solutions, Legal Aid Foundation of SB, Santa Barbara Rape Crisis Center, Posse Program: Opening Doors to College and Storyteller Children's Center and a wine and cheese reception.
"My name is Elizabeth Blackadar, and thanks in large part to the Rape Crisis Center, I am a Survivor of sexual abuse...If the RCC had not been able to offer me affordable counseling, I would not be standing here today. This is not an exaggeration or an over dramatization...it is the simple truth." Elizabeth Blackadar, client of the Rape Crisis Center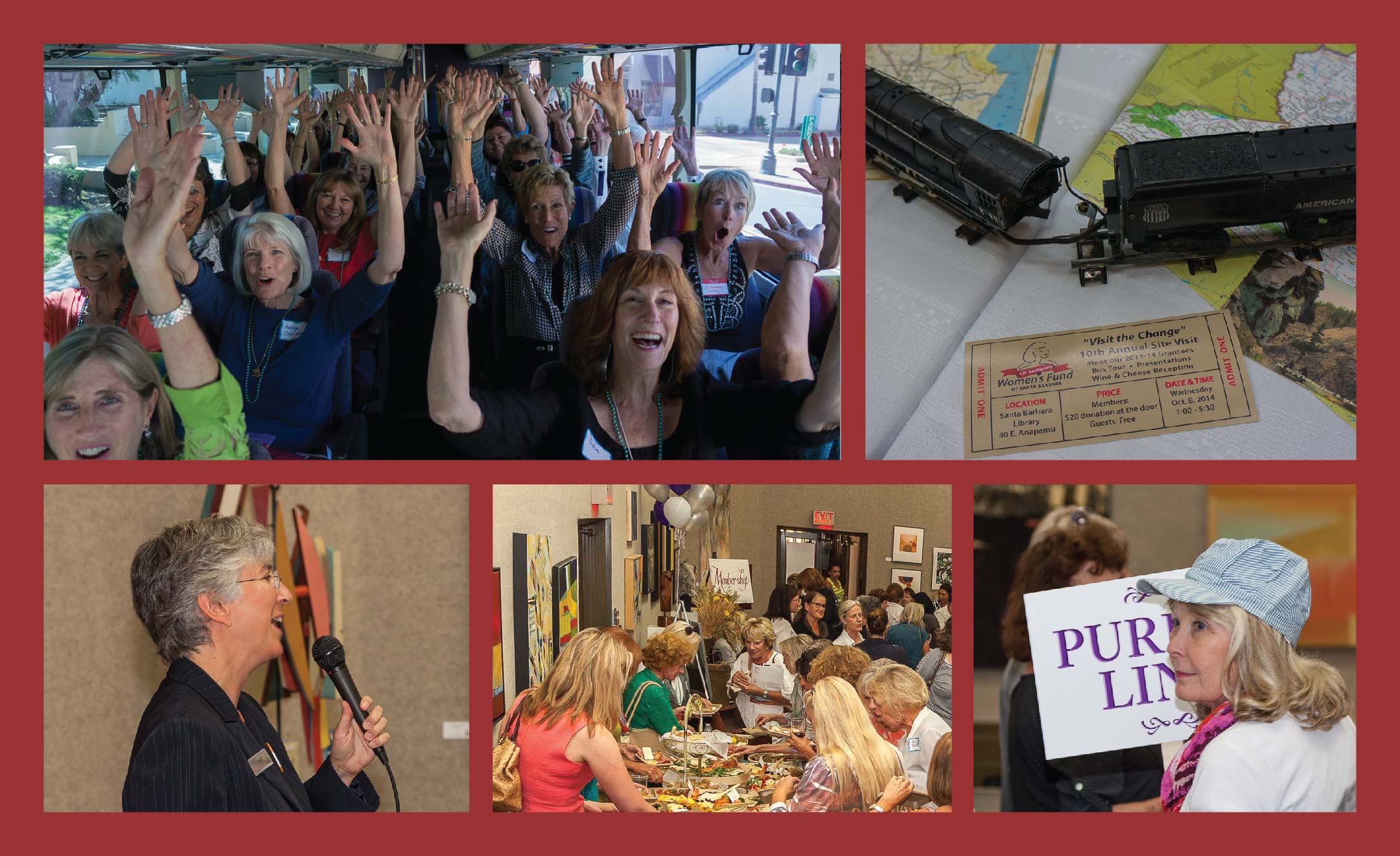 "This event allows our members to see firsthand how their combined contributions are changing lives," said Sallie Coughlin, Co-Chair of the Women's Fund Steering Committee.
Carol Palladini - Woman of the Year!
On October 7th, just one day before our Site Visit, Women's Fund founder Carol Paladini was honored as Santa Barbara's 72nd Woman of the Year.
Steve Lyons, left, 2013 Man of the Year, with wife Cindy, 2013 Woman of the Year Carol Palladini and her husband, Bill, at the Man & Woman of the Year awards ceremony.
(photo by Melissa Walker/Noozhawk)
"Never doubt that a small group of thoughtful, committed citizens can change the world," said Ron Gallo, president and CEO of the Santa Barbara Foundation. "Indeed it is the only thing that ever has." Read more in Noozhawk.
Inspired to be part of the 2014-15 Women's Fund?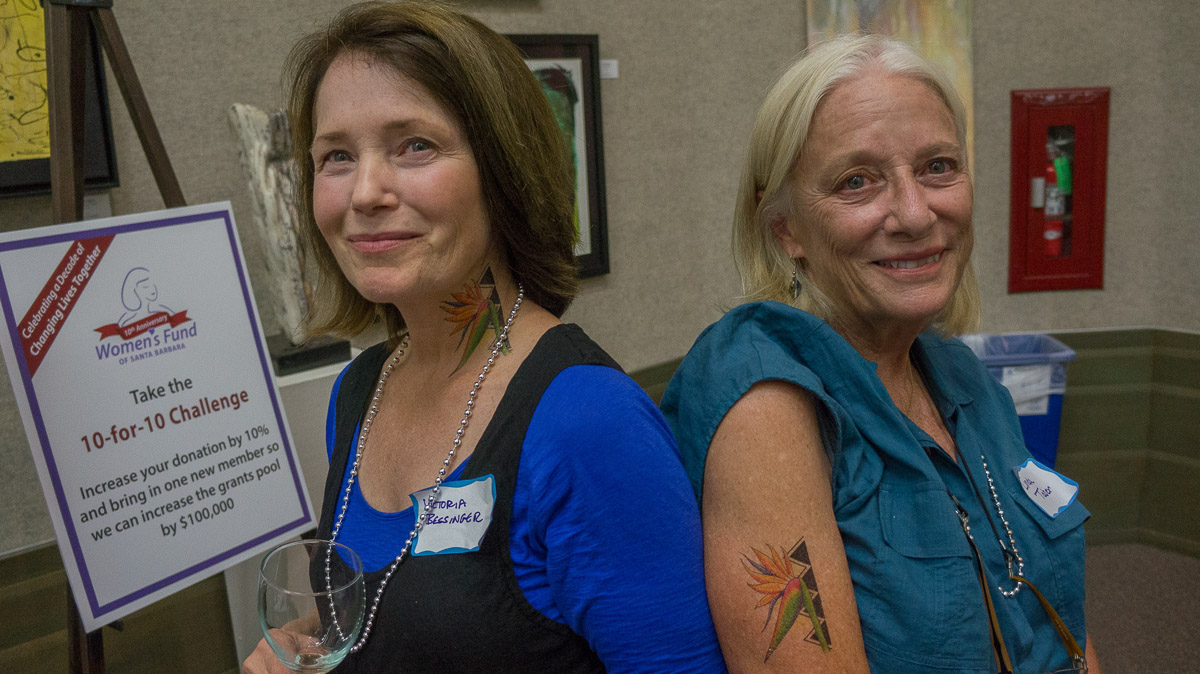 These women were so inspired they wanted everyone to know that they are members of
Birds of Paradise, a Women's Fund membership group since 2013.
Click here to join or renew now and help us sustain the remarkable results of our first decade by taking the 10-for-10 Challenge: Increase your 2014 donation by at least 10% and help spread the word by encouraging others to join. If each member of the Women's Fund increases her donation by 10% and gets one friend to join, we will increase our grants pool by $100,000!
If you have questions about membership, contact our Membership Co-chairs, Julie Capritto and Susan Johnson at membership@womensfundsb.org.
Thanks!
...to our dedicated Site Visit volunteers led by Sarah Stokes, Kate Winn-Rogers and Barbara Hauter Woodward, and to our generous supporters who - along with our members - ensured all Site Visit costs were 100% covered:
Santa Barbara Airbus
Allen Construction
C'est Cheese
Ferguson's Bath and Kitchen Gallery
Jeff Davis, Eco Green Supply
Maria and Michael DePaolo, DePaolo Vineyard
Carole MacElhenny, WF Founding Member
Montecito Treasures
Santa Barbara Public Library
Nancy Weiss, Food Services Director, SB Unified School District
Youth Interactive-Team Biscotti
To unsubscribe from future Women's Fund newsletters,
please click here to send an email request.