It's Not Too Late
Click here to
join or renew
by December 31
Join by Dec. 31 so you can vote for our next grantees
We have less than two weeks before the year-end deadline for collecting funds for our 2014-15 grants pool that Women's Fund members will distribute to nonprofit agencies next Spring.
If you haven't renewed your membership for 2014, please do so now. Our Research Committee is working hard to create a ballot of excellent candidates to receive Women's Fund grants and the larger our grants pool, the greater our impact will be on improving the lives of women, children and families in our community.
With the help of our generous members, we hope our 2014-15 grants pool will reach at least $400,000.
Click here to join or renew your Women's Fund membership and participate in the next decade of commitment and community collaboration.
'Tis the Season...
...when our mailboxes overflow with appeals from worthy nonprofits that do so much for our community throughout the year.
The Women's Fund is proud to have contributed $4.7 million to 64 of those local agencies since 2004.
We cannot underestimate the power of collective giving and caring. While each of us alone might not counsel a child, shelter an abused woman or rescue a fragile local family–TOGETHER, we can provide significant support to the local experts who do.
Happy Holidays and a healthy, peaceful 2015!
We end this year with a reminder of the amazing decade we have had...and with great expectations for the coming decade.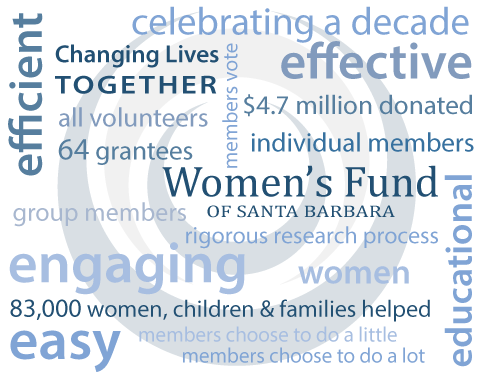 To unsubscribe from future Women's Fund newsletters, please click here to send an email request.