It's here! Your official invitation to the 9th Annual Women's Fund Site Visit on October 17 ------- RSVP by October 10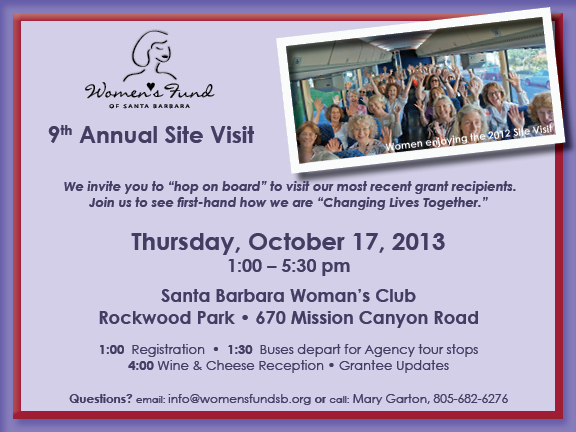 RSVP today for this popular event featuring an afternoon bus tour and visits with three of our most recent grant recipients: Catholic Charities of Santa Barbara, Doctors Without Walls - Santa Barbara Street Medicine and Westside Boys and Girls Club. You will see first-hand how we are changing lives together and leveraging the $525,000 in grants the Women's Fund awarded to these agencies last April. The bus tour will be followed by an afternoon reception and updates from our other five 2012-13 grant recipients: Future Leaders of America, Girls Inc. of Carpinteria, Isla Vista Youth Projects, Women's Economic Ventures and Youth Violence Prevention Program.
Guests are Welcome!
Because this is such a powerful learning experience, we hope you'll bring a friend -- or two or three -- who may be interested in learning more about the Women's Fund. If you are inviting a guest(s), please RSVP with the names of the guests you are bringing. They are sure to feel welcome and inspired!
If you would like to share this information with your guest(s) or print the Site Visit Invitation, please click here for a PDF version.
Please note: If you're unable to join us for the entire afternoon Site Visit program, you may register for the bus tours only or for the reception and program from 4:00 - 5:30 pm. Please let us know when you RSVP.
$20 Contribution
This year we are asking each attending WF Member to help cover event costs by contributing $20 at registration the day of the event. All guests of WF members are welcome free of charge!
Space is limited, so please take a moment now to click on the link below to RSVP for you and your guests.

Thank You to our 2013 Site Visit Underwriters. . .
We are grateful for the generosity of the WF Members and local businesses that have donated resources to underwrite this event: Allen Associates Construction, Ferguson's Bath & Kitchen Gallery, Barbara Lowes, WF Founding Member Carole MacElhenny, Nikki Rickard, and Santa Barbara Airbus.
Dale Kern
The Women's Fund is sad to report the passing of one of our Founding Members, Dale Kern. She loved the idea of the Women's Fund from the beginning and jumped right in to offer her professional writing expertise to help formulate a simple, but clear mission statement and description of the fund. She also made beautiful jewelry and shared some of the profits with the WF. She will be missed.