Have you?
Click here to learn more
and join/renew for 2014.
In this issue:
• Doctors Without Walls meets the Assistance League
• 2014-15 Research Committee issues

• Taking the 10-for-10 Challenge
Women's Fund connects nonprofits to work together for homeless women
This spring, a remarkable relationship started between 2013 Women's Fund grantee Doctors Without Walls (DWW) and the Assistance League of Santa Barbara, thanks to Women's Fund member - and long time Assistance League member - Jane Atwater.
When Jane learned that Doctors Without Walls needed pocket-sized hygiene pro
ducts to give to their clients at the Women's Free Homeless Clinic, she offered the help of the Assistance League. Then she learned that the DWW clinic also provides lunch, showers, laundry and clothing to women who visit the clinic for medical care and that clinic volunteer Lisa Rader, N.P., had been going to garage sales, using her own money and her skills of persuasion to obtain clothing for the clinic. Jane proposed that the Assistance League could help with that too and now, once a month, the clinic receives free toiletries, clothing, sleeping bags and backpacks from the Assistance League's Thrift Shop.
"Thanks to you, we see the women smile and gasp at the quality of clothes that you provide for them." Lisa told the Assistance League. "It gives them the opportunity to feel self confident, clean and better able to apply for jobs and housing."
A message from the Research Committee
The 12 returning members and seven new researchers who make up the 2014-15 Research Committee are already hard at work reviewing local agencies that could be candidates for the Women's Fund ballot next spring.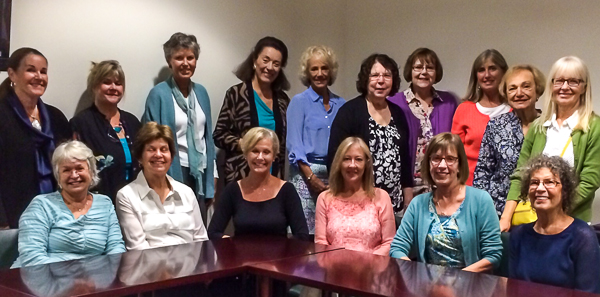 One of the first steps for the committee is to learn what is on the minds of our members. In May, we conducted our first Member Interest Survey, replacing the Focus Area cards used in previous years. In the survey, you told us these are the issues that matter most to you, in order of priority:
Education
Homelessness
Enrichment programs for youth
Health and wellness
Seniors and aging
You also suggested looking at agencies providing anti-gang programs and drug and alcohol recovery programs, and recommended several new agencies to be included in our master list.
The Committee expects to review at least 35 agencies and programs in depth, before substantially narrowing the list of agencies for the members' ballot in March.
If you have any questions about the process or are interested in serving on the Research Committee in 2015, please contact co-chairs Christine Riesenfeld creisenfeld@cox.net or Laurie Tumbler ltumbler@cox.net.
How to meet the 10-for-10 Challenge
This spring, to mark our 10th anniversary, we introduced the 10-for-10 Challenge, asking each Women's Fund member to:
Increase her 2014 Women's Fund donation by at least 10%.
Help spread the word by encouraging others to join in 2014.
If each member of the Women's Fund increases her donation by 10% and gets one friend to join, we will increase our grants pool by $100,000!
Why is the 10-for-10 Challenge important?
Because we want to build on the amazing results we achieved in our first decade:
Donating $4.7 million to 64 local nonprofit programs impacting more than 83,000 local women, children and families in Santa Barbara, Goleta and Carpinteria.
Growing our membership ten-fold - from a small group of 68 women in 2004 to more than 600 members by the end of 2013.
As an all-volunteer organization, maximizing our contributions to the community by keeping expenses very low and finding generous underwriters whenever possible. Over the past 10 years, our net expenses have totaled only 2% of our total income.
So take the 10-for-10 Challenge today!