ATTENTION: 2012 Women's Fund members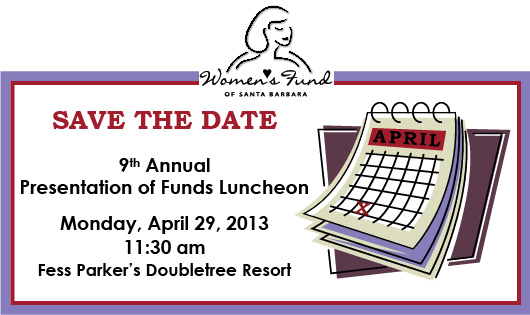 Your electronic invitation to the Presentation Luncheon will arrive in a Women's Fund newsletter in early April.
The path to our April 29 Awards Luncheon has several steps:
2012 Women's Fund members (women who joined by Dec. 31, 2012) created a pool of donated funds to be distributed in Spring 2013.
After nearly a year of research, our Research Committee is completing a ballot of deserving nonprofit candidates to be considered for 2012-13 Women's Fund grants.
2012 Women's Fund members will vote in March for the agencies they'd like to receive funds from the grants pool. This year voting will be electronic to avoid print and postage costs.
Women's Fund members who have contributed $250 or more in 2012 are invited to the April 29 Presentation of Funds Luncheon that celebrates the announcement of our 2012-13 grant recipients.