Ten Years of Changing Lives Together
The Women's Fund donates $4.7 million since 2004
If you missed the Women's Fund 10th Annual Presentation of Funds Luncheon on April 28, you missed an emotional event that delivered tears and inspiration!
In their heartfelt thanks, each of the nine 2013-14 grant recipients stirred us with their impassioned stories of how $550,000 in Women's Fund grants will change the lives of the most vulnerable in our community. Supported by their Women's Fund grants, these outstanding groups will improve the lives of homeless women, victims of domestic violence and rape, children at risk, underserved youth and single mothers.
For example, in response to the announcement of a $50,000 Women's Fund grant to Domestic Violence Solutions, Marsha Marcoe galvanized us with the experiences of a traumatized young child.
"He watched as his father put a gun to his mother's head and made her beg for her life. He was in his parents' bedroom when his father grabbed his mother's throat and pushed her up against the wall.
Trauma is an overwhelming event in a child's life. At Domestic Violence Solutions, more than half of our clients are children. Trauma takes away safety; it takes away security...At DVS we offer safety, security and solutions for women and their children fleeing from violence."
Marsha's words were echoed by every speaker who movingly described the impact the Women's Fund grants will have on educating and empowering local women, children and families.
Nine Nonprofits Receive Women's Fund Grants
Casa Esperanza ($50,000)-for shelter and support to transition women out of homelessness
Domestic Violence Solutions ($50,000)-for security systems upgrade and a safe playground surface
Legal Aid Foundation of Santa Barbara ($75,000)-for a domestic violence attorney for women and children
Peoples' Self-Help Housing ($50,000)-for after-school/summer educational enhancement programs for children of low-income families
Posse Program: Opening Doors to College ($75,000)-for tutorial and mentoring partnerships for high-achieving, low-income students
SBCC: Single Parent Achievement Program ($90,000)-for child care support for low-income single mothers allowing them to attend college
Santa Barbara Rape Crisis Center ($50,000)-for crisis intervention and long-term counseling services
Storyteller Children's Center ($50,000)-for food program for low-income preschool children
Youth Interactive Santa Barbara ($60,000)-for entrepreneurial and job skills programs for underserved youth
For more information about the Presentation of Funds Luncheon, read the Noozhawk story by Womens' Fund member and local journalist, Leslie Dinaberg.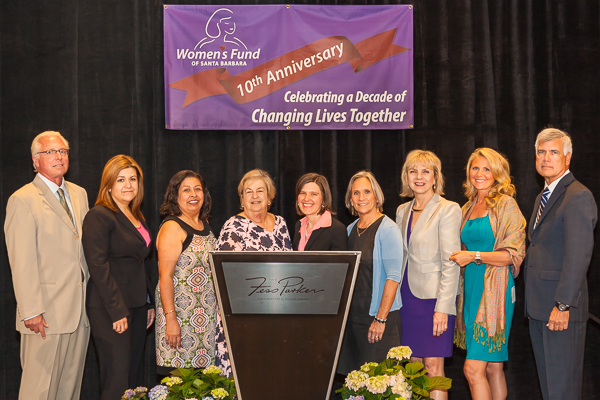 This photo shows our 2013-14 Grantees. See our Photo Gallery for more photos.
Ten for Ten Challenge
Since 2004, we have donated $4.7 million to 64 local nonprofits programs helping more than 83,000 local women, children and families in Santa Barbara, Goleta and Carpinteria.
Help us sustain these remarkable results! To honor our first amazing decade and to launch the next, we are introducing the Ten for Ten Challenge. We are asking every Women's Fund member to:
• Increase her 2014 Women's Fund donation by at least 10%. 

• Help spread the word by encouraging others to join in 2014.
If each member of the Women's Fund increases her donation by 10% and gets one friend to join, we will increase our grants pool by $100,000!
Participate in the Power of Collective Giving. Join Today!
The money we all contribute in 2014 will make up the grants pool that we'll award in Spring 2015. So just as we have been inspired by the remarkable programs we celebrated on April 28, we hope you'll want to renew your membership for 2014 so you can share in choosing and honoring a new group of worthy grantees next spring.
Click here to join, renew or learn more about a Women's Fund membership and participate in the next decade of commitment and community collaboration.