Presentation of Funds
Luncheon: April 28
Come celebrate our new Women's Fund grantees at the April 28 Presentation of Funds Luncheon
Here it is! Your invitation to the Women's Fund's 10th Annual Presentation of Funds Luncheon on Monday, April 28 at Fess Parker's Doubletree Resort.

This year, we are asking members and guests to pay $60 to cover the cost of the luncheon. We have not received underwriting for the event so your payment ensures that all annual contributions continue to be directed to the grants pool.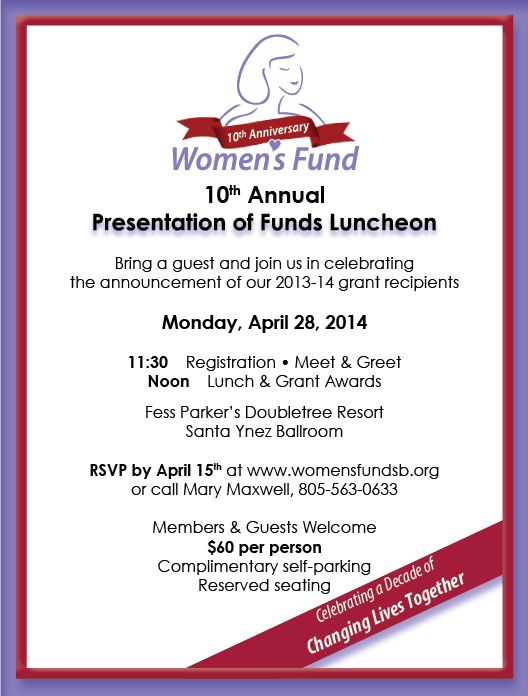 Click here to RSVP by April 15
Advance payment is required. When you RSVP, you will receive instructions
in how to pay in advance.
This exciting luncheon celebrates our new 2013-14 grantees, who will share $550,000 in grants pooled from the generous donations of our 2013 Women's Fund members and the remaining funds from Betty Elings Wells' matching grant.

Members are now voting to select our new grantees - all of whom are focused on making a significant impact on the critical needs of local women, children and families. Voting deadline is April 4.

Everyone is invited to attend the Presentation of Funds Luncheon - a moving celebration you don't want to miss. Remember - the results of our voting are a secret until our luncheon so we'll all be surprised together!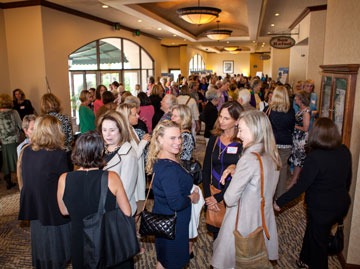 On April 28th you will hear the stirring stories of our new grant recipients. For more inspiration, check out the stories of lives we've been changing since 2004 with our past grant awards. Click Here