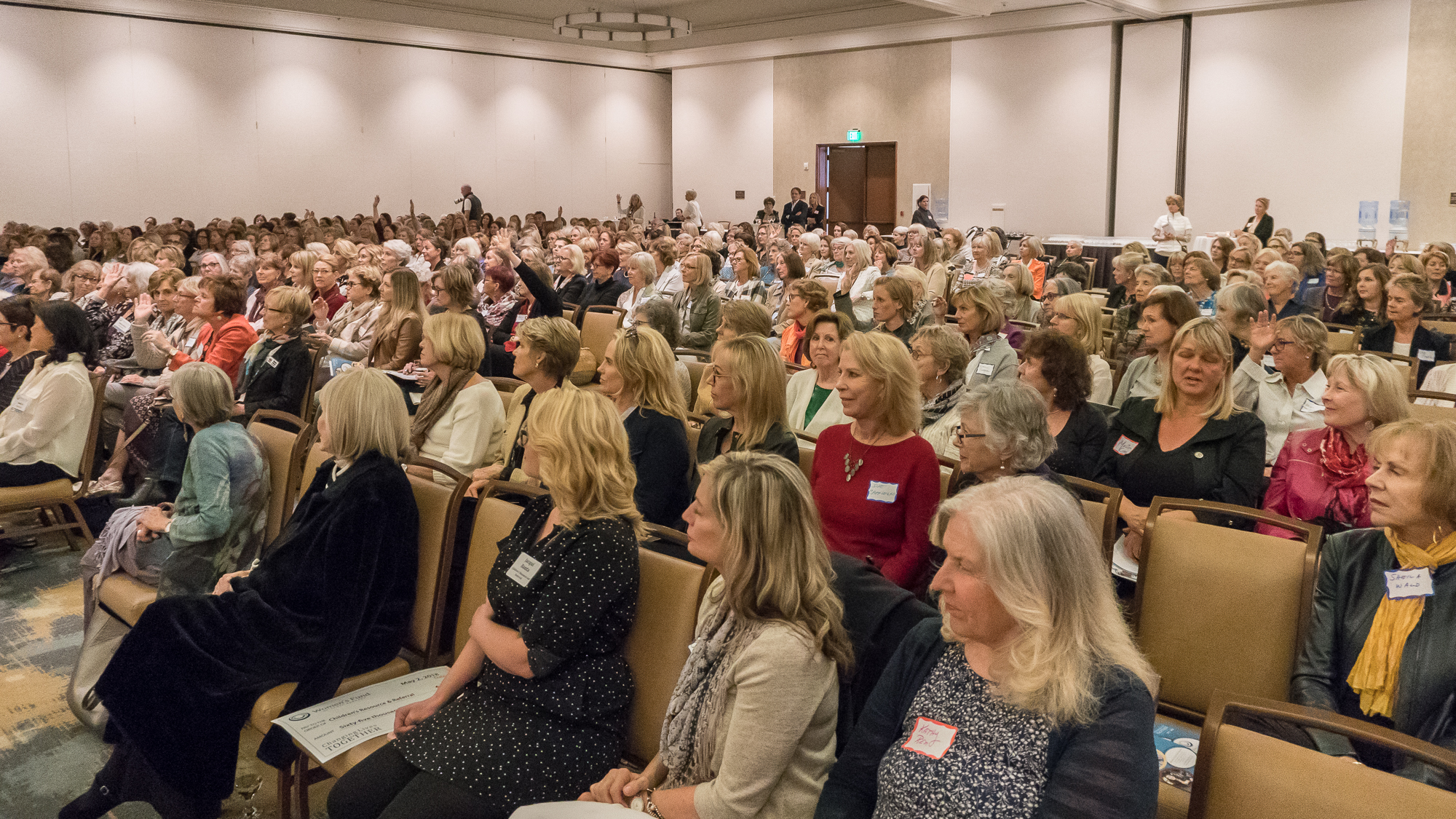 Santa Barbara, CA – On Wednesday, May 1, 2019, the Women's Fund of Santa Barbara awarded grants totaling $585,000 to nine local nonprofit agencies at its 15th annual Celebration of Grants reception. This event marks the end of the annual Women's Fund grant cycle and honors its newest grantees, voted on by the membership of nearly 1,000 women.
In celebrating the organization's 15th anniversary, Steering Chair Shelley Hurst also announced the Women's Fund will begin operations as an independent nonprofit on January 1, 2020.  Since it began in 2004, the Women's Fund of Santa Barbara has been a Field of Interest Fund of the Santa Barbara Foundation. 
In 15 years, the Women's Fund has awarded grants totaling more than $7.2 million to 102 local nonprofit programs impacting nearly 100,000 women, children and families in Santa Barbara, Goleta and Carpinteria. The announcement of the new grantees—kept secret until the reception—was held at Hilton Santa Barbara Beachfront Resort.
The nonprofits receiving 2018-19 Women's Fund grants are:
Alpha Resource Center - $65,000 to purchase a wheelchair accessible van for clients with Intellectual Development Disorders to participate in off-campus community activities.
CALM – $55,000 to provide onsite counseling to low-income Carpinteria families and their children having Adverse Early Childhood Experiences.
Catholic Charities of Santa Barbara - $50,000 to replace a 50-year-old, leaking Thrift Store roof to protect income-producing inventory that supports programs for low-income clients.
Family Service Agency (FSA) - $65,000 to expand the Holistic Defense Program in the Santa Barbara Public Defenders office to help women stabilize their lives and reduce reoffending.
Isla Vista Youth Projects (IVYP) - $55,000 to expand Family Advocate program in Goleta Union School District, helping low-income parents receive services for basic family needs.
PATH – Santa Barbara - $50,000 to replace 50 bed-bug infested beds with new metal beds and bug resistant mattresses for the women's quarters at the interim-housing shelter.
Santa Barbara Neighborhood Clinics (SBNC) - $70,000 to purchase two compact wheelchair platforms to provide dental access for low-income special-needs patients.
Sarah House - $95,000 for kitchen renovations including new appliances, plumbing, floors and cabinets at hospice home for homeless, low-income individuals with terminal illnesses.
Transition House - $80,000 to provide bridge funding for emergency shelter operations for homeless families with children while agency seeks to replace government funding cuts. 
"We are a volunteer-driven organization based on a simple, creative model—women combining our charitable donations so we can make a larger impact on the community than most of us would be able to accomplish on our own," said Hurst. "We strive to be educated, strategic givers working to make a difference in the lives of women, children and families in our local community."
Hurst said the move to become an independent nonprofit in 2020 will better position us for growth and community impact. "We've grown from 68 women in 2004 to nearly 1,000 today," she said. She went on to acknowledge the support offered by the Santa Barbara Foundation throughout the years.  "The Santa Barbara Foundation gave us a home, guidance, financial support and more. We recognize and thank them for their many contributions to the Women's Fund."
"We are and always will be a strong champion of the Women's Fund and applaud what they have achieved," said Ron Gallo, President and CEO of the Santa Barbara Foundation.  "In support of their vision becoming a reality, our most recent grant funding helped facilitate their exploration to become an independent nonprofit. Our partnership began 15 years ago, and we are excited to continue it in this new form for many years to come." 
Among the highlights of the Women's Fund celebration was honoring the vision and leadership of Founding Chair Carol Palladini and a moving video featuring the work of three past Women's Fund grantees and their clients.
Hurst concluded by saying: "Over the years, we've fed families, provided medical care to vulnerable women and helped young people realize their full potential.  Together we've helped house seniors and the homeless, provided refuge for troubled teens and protected women and children from violence.  We've helped newborns thrive and provided dignity and comfort for those at the end of their lives. The more than $7.2 million we've given together since 2004 is more than a number. It represents people. Lives we helped change together."
Sponsors for the event included Allen Construction, Ferguson Bath, Kitchen & Lighting Gallery with Newport Brass, Bryant & Sons, Stina Hans and Maryan Schall. Video sponsors included Montecito Bank & Trust, and Women's Fund members Jackie Inskeep, Fran Adams, Ginni Dreier, Stina Hans and Barbara Hauter Woodward.
Event Chairs were Linda Stafford Burrows and Mary Wiemann.  
About the Women's Fund of Santa Barbara: The Women's Fund of Santa Barbara is a volunteer-led collective donor group focused on the needs of women, children and families in Santa Barbara, Goleta and Carpinteria.  Committed to "Changing Lives Together," Women's Fund members pool their charitable donations, research critical community needs and then vote on which agencies will receive the funds collected during the year.
For additional information about the Women's Fund, visit: womensfundsb.org.
Source
Women's Fund Press Release