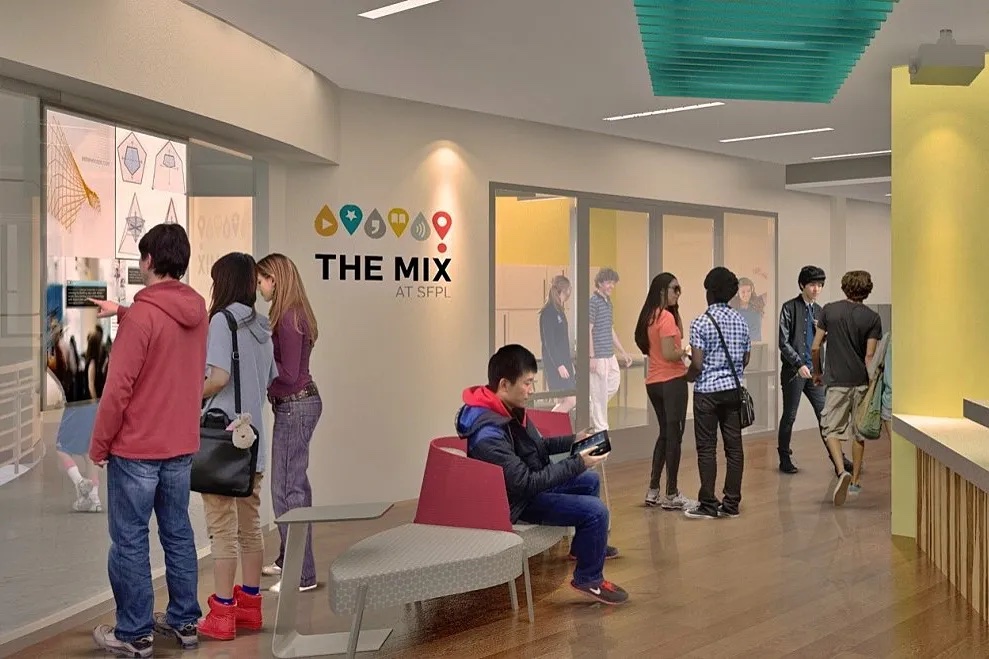 Imagine a safe space in the heart of Santa Barbara where local teenagers gather to discuss books, host poetry slams, create videos or simply hang out, without parents watching over their shoulders.
It's a place where they can be themselves, explore their passions and collaborate.
This is just one of the visions that the Santa Barbara Public Library Foundation hopes to achieve, with ongoing support from the City of Santa Barbara and the community.
As the new Michael Towbes Library Plaza nears completion this fall outside the downtown library at 40 W. Anapamu St., the foundation is shifting its focus to other areas in need of a refresh.
"Our upstairs Teen Space has tremendous potential but is in need of love," said Lauren Trujillo, the foundation's executive director.
The self-contained space will be designed with teens' input and feature programming they direct. It will be equipped with computers, printers, comfy seats, and perhaps even a dedicated space for video, music and podcast productions.
Many teens in our community who are classified as homeless will gain access to high-tech equipment, internet services and study space of their own.
"There are also plans to strengthen our teen advisory board for our Eastside branch," Trujillo told Noozhawk, referring to the facility at 1102 E. Montecito St.
Teens are already managing the vending machines that generate funding for programs they create.
"The Eastside branch has considerable potential because it really is a neighborhood library that has a huge following yet doesn't have the resources to accept the services to meet demand," said Jim Jackson, SBPL foundation board chairman.
The Eastside branch is well positioned to forge greater synergy with its Franklin School, Adelante Charter School and Franklin Health Care Center neighbors.
"We are also looking to update the outside spaces at our Eastside branch," library director Jessica Cadiente said. She envisions more user-friendly, welcoming early literacy patios.
The Eastside also is home to the Library on the Go Van and, thanks to a grant from the Women's Fund of Santa Barbara, the library will get a second vehicle to expand its reach throughout Santa Barbara County.
The Eastside also happens to be where staffing often gets cut, according to Jackson, so there is great need.
"Unfortunately, the city tends to think of the library as a big house of books, often overlooking the critical services the library provides to all segments of our community," he shared, "including veterans, children, parents, English learners, and those experiencing homelessness or challenges reading."
Jackson, who co-chaired the Children's Library campaign in 2012 uses that as an example to illustrate his point — that if you expand services people respond.
In the case of the children's space, library attendance skyrocketed from 3,600 to more than 26,000 attendees per year after the remodel. Plans are also in progress to restore the second-floor patio of the main branch.
Once refurbished, this hidden gem, currently inaccessible to the public, will become a rooftop garden welcoming patrons and private events. The Faulkner Gallery is in line for a revamp as well, with plans to install new audio-visual equipment and a commercial kitchen that can cater events taking place in the new Library Plaza. And last on the list is a needs assessment survey that will determine the best use of another second-floor space at the main branch, which could be transformed into a classroom, a podcast studio, or whatever else the community deems most critical.
What many in the community agree is critical is getting the library open more hours; it has been closed on Sundays and Mondays since 2020 due to coronavirus-related and ongoing city budget reductions.
With National Library Week kicking off April 24, the community will have an opportunity to celebrate and learn more about the library's vital role.
Events are planned throughout Santa Barbara, including Library Cocktail Hour Update (5:30 to 7:30 p.m. April 24), Library on the Go Happy Hour at Shalhoob's Funk Zone (5:30 to 7:30 p.m. April 25), Library Common Table at 1129 State St. (noon to 2 p.m. April 26), Central Branch Open House (5:30 to 7:30 p.m. April 26) and Literary Trivia Night (6 to 8 p.m. April 28). All event details can be found at https://library.santabarbaraca.gov.
The Santa Barbara Public Library Foundation also invites visitors to learn more about how they can contribute to these projects, by making an appointment to visit its new CoLab space at La Cumbre Plaza. CoLab is a coworking space providing a creative and supportive environment for nonprofit organizations to work together and share resources.
The space is currently occupied by the Library Foundation, the Common Table Foundation and The Arts Fund, and there is space for three more. Those interested can email jamie@claybyjamiedufek.com.
Click here for more information about the SBPL Foundation and how to support large-scale initiatives that improve the library and enrich our community. 
Source
Noozhawk 4-16-2023